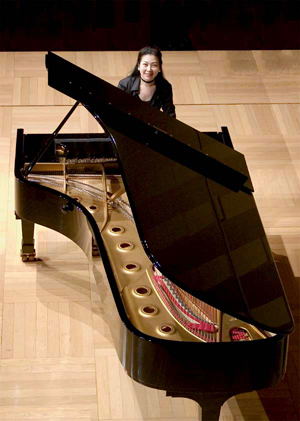 Photo (C) Isao Oishi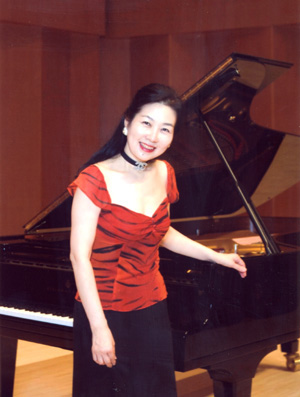 Photo (C) Isao Oishi

e-mail:rux@ca3.so-net.ne.jp
http://www.rumi-itoh-pianism.com





伊藤ルミ プロフィール

幼少より故東貞一氏に師事し、18歳でデビューする。以来ソリストとして数多くのリサイタルを開くとともに、故朝比奈隆氏指揮による大阪フィルハーモニーをはじめ多くのオーケストラとの共演で活躍する。海外では、1988年にヤナーチェク弦楽四重奏団に招かれたのをきっかけとして、現在までに同弦楽四重奏団や、 その第一ヴァイオリンの故ボフミル・スメイカルとの二重奏、パールトリオ、ミハル・カニュカとの二重奏でヨーロッパの国々で共演し高い評価を得ている。2006年には、チェコの名門パルドビツェ管弦楽団、ボフスラフ・マルティヌー管弦楽団との共演でも好評を博した。国内においては、1989年より「リッツ・ミュージック」を主宰し、フランティシェック・ノボトニー、「パールトリオ」、ミハル・カニュカ。「ラ・ミューズトリオ(エバルト・ダネル、ルドヴィート・カンタ)」などを招聘し各地で活動を続けている。9種類のCDが国内外でリリースされている。1991年神戸市文化奨励賞、1995年兵庫県芸術文化奨励賞(神戸市民賞)、2002年ロドニー賞(神戸市民賞)などを受賞。(公財)神戸文化支援基金(こうびし基金)理事。

Rumi Itoh began to learn the piano under Late Teiichi Higashi from her very early age. She made a debut at a concert at the age of 18. Since then, she frequently had solo recitals and appeared as a soloist with orchestras such as Osaka Philharmonic Orchestra conducted by Late Takashi Asahina.
During 1988-1992, she joined in Janacek String Quartet as a soloist and made a good success at many cities in Japan as well as in Europe. In 1993 she formed 'Pearl Trio' with Bohumil Smejkal and Johannes Degen, and in the following year they made a debut at Smetana Music Festival. Subsequently Pearl Trio continued to play in Japan and in Europe, and was invited to concerts in chamber music series at Czech Philharmonic and also in Japan Festival held at many cities in Czech. In 2002 she founded 'La Muse Trio' with Ewald Danel and Ludovit Kanta and they now continue to have regular concerts in Japan. Since 1989, she has been inviting to Japan outstanding artists such as Frantisek Novotny, Michal Kanka and Pavel Hula and enjoying duo concerts in many cities including Tokyo, Osaka and Kobe. In 2004 and 2007 she had European duo tour with M. Kanka and received standing ovations at halls in many European cities with including Amsterdam Concertgebouw and Suk Hall in Czech. In 2006 she was invited by Czech Republic to orchestral concerts of Komorni Pardubice Filharmonic Orchestra (cond. Leos Svarovsky) and Filharmonie Bohuslava Martinu (cond. Charles Olivieri-Munroe), and made a good success.
A series of recordings for duo and trio have been released from King Record, Victor, Praga Digitals and so on. Among all, the recording with M. Kanka has gained Four Stars of the highest evaluation in the music magazine 'Le Mond de la Music' in France. Recently the disc of her co-work with Jiri Belohlavek (cond.), F. Novotny (vn), M. Kanka (vc) and Prague Philharmonia has received Five Stars nominated by Arts Division of Czech Radio Station. In Japan, she had such honors as Kobe Culture Promotion Award in 1991, Hyogo Art & Culture Promotion Award in 1995 and Rodony Award for Kobe honorable citizens in 2002. She manages and promotes Rit's Music.